I wanted to follow up and let you know that I am extremely happy with this flute. I've had a chance to get accustomed to the horn and the open hole fingering – I came off an old Gemeinhardt plateau model I'd had for about 30 years – but being more of a doubling horn I needed to dedicate some shed time. The Pearl responds so beautifully I feel my embouchure is improving very quickly. Being an old guy I figure this is my last flute and it certainly is a good one!
Thanks again for the very smooth transaction and the honest, spot-on description – I would certainly recommend you to anyone looking for an instrument.
-Greg, Manchester, NH, 2016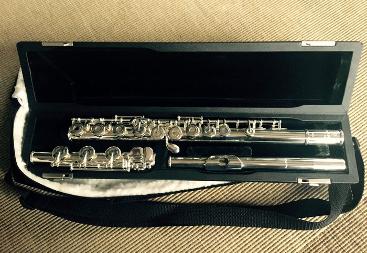 I just got the flute! Thank you so much I couldn't be happier with it I'm boasting! I definitely think I know who I'm coming to when I have enough for my first piccolo or professional flute! I'll be sure to recommend anyone looking for good used flutes!
-Angel, CA, 2015
The flute I brought from you store was, I should say is AMAZING!!! I love the full range it can give me, it about time I found great flute that works for me. The sound is sweet as can be and it makes so many beautiful colors that I have not scene!!! Thank You for an AMAZING flute!
-Samuel, Farmington, New Mexico, 2015
The instrument I purchased was exactly as described -- better, when you consider how small a piccolo is and how large the photos were. Jaclyn supplied additional pictures quickly when asked and shipped promptly after I placed an order. I didn't require support for this purchase but suspect I'd have been happy with it if I did. Thanks!
-Mark, Washington D.C., 2015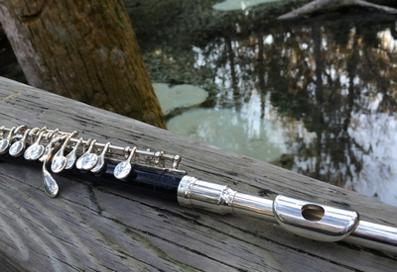 Jaclyn was a pleasure to deal with. I called and spoke with her on the phone for a solid half hour discussing the best options for my daughter. Jaclyn was patient and understanding, in addition to being knowledgeable regarding the flutes she had available for sale. The flute I purchased arrived very quickly, and in like new condition. I would not hesitate to deal with Jaclyn again.

-Lyn, VT 2013

I got my Gemeinhardt flute in the mail this weekend. I had it looked at by my daughter's instructor. Great Quality, Great Price. Thank you for such a quick and easy transaction.

-Carol, Palm City, FL, 2013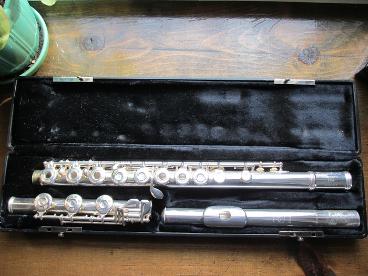 The flute arrived and I've been giving it a workout for the past hour or so. LOVE IT! It is light years from the student Yamaha I've been playing with respect to tonal resonance, warmth, and overall response. It's a keeper!
I highly recommend you to other flutists. The amount of time that you spent with my questions and seeing what you could do for me with my limited budget are greatly appreciated. Clearly, this flute is the right one for me. Again, thank you for everything!
- Roger, Olney, MD, 2012
Not only did she sell me a flute at a reasonable price, she educated me on different brands. I was overwhelmed by the various types and Jaclyn made it painless.

-Anonymous, Manahawkin, NJ, 2012

We decided to upgrade our daughter's flute, since she was still using her student flute and she is now playing in a college band. I had been researching used flutes online and talking with acquaintances who advised on what flutes and features to look for. I was searching online, but couldn't find what we were looking for at a price we could afford. Then, I happened upon Jaclyn Duncan's website. I found a flute with all the features we were looking for, at $100 less than anywhere I had looked. I contacted Jaclyn via e-mail on Friday morning Dec. 21. I explained that it was a Christmas gift, but that I was not expecting it to arrive in time. Jaclyn responded very quickly to my e-mail and sent me the payment information. I sent her payment Friday evening. She shipped the flute out first thing Saturday morning. It arrived on Monday Dec. 24, in time for our daughter for Christmas! The flute arrived in a well packed box and the instrument was just as she had described it on her website. Our daughter was thrilled. It was a pleasure doing business with Jaclyn. We would definitely shop with Jaclyn again, if we are ever in the market for another flute. Thank you for helping to make our daughter's Christmas extra special!
-Susan, Murrysville, PA, 2012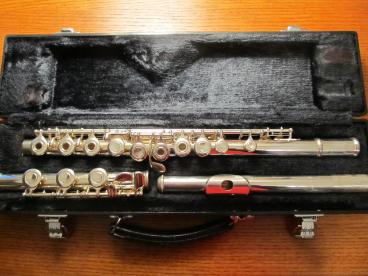 Jaclyn was accomodating for us to come and see the flute and let my daughter try it out before purchasing. She is very knowledgeable about music and helpful with information about different brands of flutes that we were considering. Not pushy and not trying to sell us something we really didn't need.

Laura, Allendale, NJ 2011

Jaclyn is an honest person with a passion for music. Unlike other people I spoke with she is a professional musician and she was actually using the flute before I bought it from her. I sent her an email to inquire about the flute and she gave me all of the specifics on it. Since I was buying it online she offered to allow me to exchange it if my wife did not like her surprise. I purchased it as a Christmas gift, it arrived polished and corked, and afterwards Jaclyn followed up with me to see if my wife and I were satisfied.
-Carl, Fredericksburg, VA, 2011

It was such a pleasure. I couldn't imagine the process being any easier. The Flute its perfect and the price was more than fair! In fact I feel Jaclyn should charge more. Thank you so much. I will definitely call when it is time for the next upgrade...
-Al, Newton, NJ, 2011

Flute arrived, looks beautiful and my daughter played it last Friday inside Carnegie Hall [with her school band]. When my wife asked her later how she did, she said, "I've never played better." Thank you.

-Drew, Atlanta, GA, 2016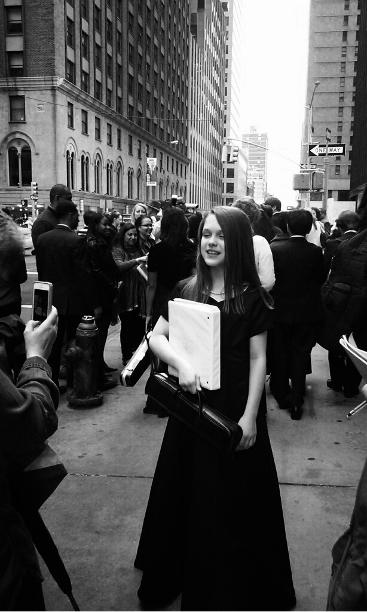 I found Jaclyn very helpful and easy to do business with. The flute headjoint came exactly as advertised, and Jaclyn was very meticulous about describing the dents and scratches before I purchased the item. The headjoint still works great and I got a great deal on the item. Although I have several stores to shop from nearby where I live, I will definitely consult Jaclyn's website before making my next flute purchase. Thank you Jaclyn!

-Davis, Napa, CA, 2014
Jaclyn went through so much to help me match the headjoint I was getting to the flute I eventually purchased as well, even helping me do the comparisons to the models above and below the model I ended up buying. Thank you so much for the help and it plays awesome!

-Marcus, Vancouver, BC, Canada 2013

I was very happy with the piccolo I purchased from Jaclyn. She is professional and friendly and I will recommend her to others. Overall, a positive buying experience. If I am ever in the market for a used flute, I would go to Jaclyn first.

-Wendy, Hackettstown, NJ 2013

As I was looking to buy for my niece and not myself I was clueless. Jaclyn was patient and explained the differences between the flutes and helped me find one that fit our needs and budget. She didn't push the most expensive one like others do! My niece has gotten compliments from everyone, including the band director! Awesome experience.

-Tina, Little Falls, NJ 2012

Jaclyn was very prompt in returning calls and emails and the flute was received with no problems, in great condition, and very quickly!
- Barbara, IL, 2012

Jaclyn answered all my questions about the instrument of interest. She knew its history and previous owners (and thus could give a good estimate of age) and provided the serial number. Upon discovering a small ding in the headjoint, she offered me the choice of a lower price or a free fix by her technician (I went for the fix). Prior to shipping, she found another minor imperfection, notified me and then sent a refund (without me even asking). In an age when doing business online is fraught with deception and risk, I found doing business with Jaclyn to be wonderfully refreshing. As for the flute - it looks like new and plays beautifully, just as Jaclyn said it would. We couldn't be happier!
- Gretchen, Shaker Heights, OH , 2012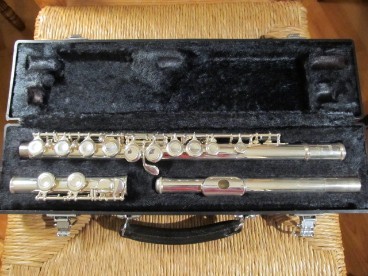 Very honest and excellent advice on the instrument that would be appropriate for my daughter. She could have sold me one not as appropriate and made the sale, but had me wait until she found a very good choice for my daughter that would meet her needs.
- Adrienne, NJ, 2012

Jaclyn was very pleasant and easy to work with. I had never purchased any instrument of any kind before and she was very helpful and made the process seemless.

-Rachel, Jefferson City, MO, 2012

Looked for flute for grandchild; found Jaclyn; made successful transaction for two (one for friend of grand daughter)- Heard them play in school concert some weeks later. Ms Duncan was clear, helpful (esp w directions!), patient demonstrator and price very reasonable for quality flutes, Highly recommend her services !!!

-Carl, NJ, 2012

My daughter loves her flute. Jaclyn was quick to answer all questions we had. She was honest & thorough. Shipping was quick and the item arrived exactly as described. Thanks!

-Beth, Cameron Park, CA, 2012

I bought a flute from Ms. Duncan and she was very professional through the entire process. She provided me excellent communication through the entire purchase process. I would recommend Ms. Duncan to anyone who is looking for an excellent used flute. Thank you Jaclyn.
- David S., Sykesville, MD, 2011

Jaclyn was highly engaged throughout the process. I would definitely recommend the site to anyone looking to make a purchase.
-Billy, Daytona, FL, 2011

friendly, courteous, responsive to e-mails, reasonably priced
- Anonymous, North Brunswick, NJ

Easy to work with. Found our perfect flute, quickly and at a good price!
-Trish, Chalfont, PA, 2011