Thank you for your donation to the Grant Elementary School Music Department!
I recently visited Grant Elementary School in Trenton, NJ to volunteer my time with the school music department. The music teacher, an acquaintance of mine, asked if I'd perform as a special guest during their winter orchestra concert.
When I went into the school I was immediately struck by how little these kids had to work with. While they'd recently received a donation of instruments, many of them were not in playable condition- They needed strings, new bridges and more. The bridges they were using were so flimsy that they were cracking in half and popping right off the instruments on a regular basis.
Additionally, the orchestra of roughly 40 kids only had 5 music stands to read from (most of which were the very flimsy folding-stand variety). As seen in the photo to the right, the kids were crowded together around the stands to see the music.
I immediately starting thinking about what a difference we could make for this city school, where a budget for just about anything is non-existent.
With your help, I'd like to set a goal to give a gift of 15 music stands ($15-$20 value each) to the students at Grant! If enough is raised, we can also contribute with new strings, bridges and money towards re-hairing bows. If you have a specific item you'd like your donation to go towards, please let us know and we will gladly work with you.
Thank you so much for considering partnering with us for this cause!
-Jaclyn
Despite the poor condition of the instruments and the lack of music stands, it was evident that these kids LOVE having the opportunity to learn! While only 30-40 kids participate on a regular basis, the list of those who want to join the orchestra is twice that number.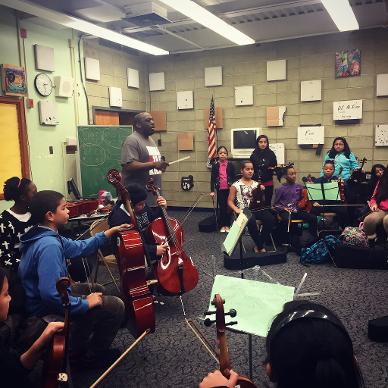 Copyright 2010-2014
© Jaclyn Duncan Music, All rights reserved.