Making Music at The Racquet Club, Philadelphia
What?

A classy Philadelphia wedding


Where?
The Racquet Club, Philly
When?
A chilly February day
Who was booked?
Our Violin-Cello-Piano Trio
Incorporated in 1889 and occupying a spot on the National Registrar of Historic Places, the Racquet Club of Philadelphia is a sight to see! From the Georgian Revival style architecture to the red leather sofas, this venue embodies class. We were asked to perform as a Violin-Cello-Piano duo for a fantastic Scottish wedding in chilly February, and despite the slush on Philadelphia's streets that night, we were excited to perform!
We began the ceremony in the main hall with some traditional favorites- Pachelbel's Canon & the like, but things picked up once we made our way to the adjacent cocktail hour space where the aforementioned red leather sofas blend seamlessly with the deep red walls and red carpets- check out The Racquet Club's website for photos!
Following the cocktail hour we made our way back to the main hall to serenade the bride and groom as they performed their choreographed first dance to "God Only Knows" by the Beach Boys- Good times!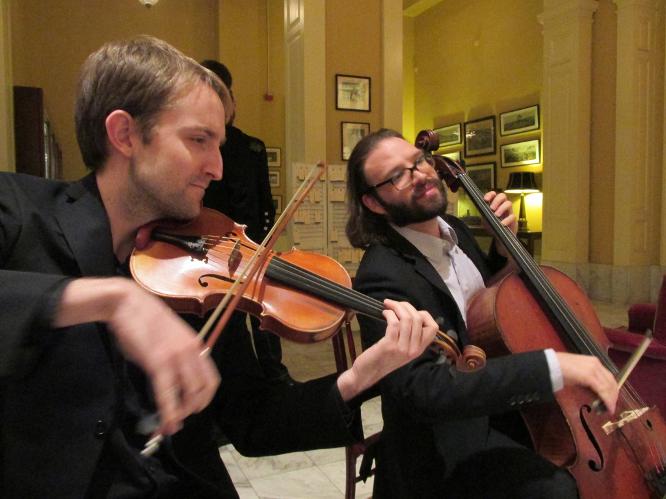 Above: Our violinist and cellist warming up before the ceremony in the main hall
Below: I'm truthfully not sure how this happened. As I was moving my electric piano from one room to the next, I turned around to find our instruments in the photobooth and our cellist acting as photographer! I'm sure the bride and groom had a good chuckle when they saw these photos!!