Frequently Asked Questions
Wedding Ceremonies, Cocktail Hours & Receptions

Browse a list of the most common questions we get from our wedding clients! Have additional questions? Shoot us an email at jaclynduncanmusic@gmail.com or call 917-400-1658.

Need help selecting a venue, officiant or photographer? As professional musicians who've performed at countless weddings throughout NJ, PA, NY, DE, CT, FL and Southern California, we'd be happy to share who we found the most professional, accommodating and easy to work with. Just ask and we'd be pleased to refer you to some very wonderful people!

Q: What kind of music do you play for wedding ceremonies? If I have a special song I want played, will you learn it?

A: Our skilled team plays all styles of music for wedding ceremonies and is very happy to learn a special song for you! From classical to jazz to RnB to heavy metal, we've done it all! A list of the music already in our classical team's repertoire can be found
here
. Bands' repertoire lists available upon request. Need help selecting music for your ceremony? Just ask!
Q: Do you perform with amplification?

A: It depends on which ensemble you are booking. For the most part, we do not amplify for wedding ceremonies besides electric keyboards and guitars. Cocktail hours and receptions can be amplified when needed.

Q: By when do you need to have my music selections? How long do you need to prepare the music?

A: If the music you are selecting is already in our existing repertoire, we require that you send us your list by two weeks before your event. If we will be learning new music for you, we will need 4 weeks to amply prepare it.

Q: I am getting married in a Catholic Church. The church already has an organist. Will you play with them?

A: Yes, we'd be happy to play with your church's organist. Just put us directly in touch with them and we'll take care of the rest!

Q: We are planning to have our wedding ceremony include a full Catholic Mass. What will we need music-wise for this? We're undecided about using organ. I know I'd love to include something like violin or flute.

A: If you are planning to have a full Catholic Mass performed at your wedding, you will likely want to have a cantor lead the responsorials and songs. It is also a good idea to use either organ, piano or harp to accompany the cantor. JDM can provide both of these parts if your church doesn't have available musicians. Once those two parts are in place, you can add on as many other instruments as you desire- flute and/or violin are excellent choices!

A: While not obligatroy, tips are always appreciated if you are happy with our service!

Q: Can you play pop music on instruments like violin, flute or harp for our cocktail hour?

A: Absolutely! I, Jaclyn, love writing fun custom arrangements of popular music for classical instrumentation. A typical cocktail hour set by members of our classical team will include both pop and jazz, though we'd be happy to tailor the style to your tastes. Check out our repertoire list
here
.
Q: Our ceremony is going to be 30 minutes long. Will you play for our guests while they are being seated?

A: Yes, we would love to play for your guests! A standard wedding ceremony booking with JDM is one full hour long. This hour will include 15 to 30 minutes of music as your guests are being seated as well as an extra 5-10 minutes of music at the end as guests clear the ceremony site.

Q: I have a friend who I'd like to have sing/play an instrument at my wedding. Will you accompany them?

A: We'd be happy to accompany your friend! When performing with a new musician, we'll typically plan to rehearse at the venue just before the prelude music begins. You can put us directly in touch with your friend to coordinate the details so you don't have to be the messenger. :)

Q: Will you need to take breaks?

A: If you are booking us for a wedding ceremony (1 hr), cocktail hour (1 hr), or both (2 hrs), no, we won't need breaks. If we are going to be performing for a longer event (ie a reception or longer than usual cocktail hour), then we will require a 5-10 minute break each hour. In some cases when ensembles of 4 or more musicians are booked, we can stagger breaks such that you never have a period of silence. Additionally, some of our bands can offer iPod music during breaks.

Q: Do you require a deposit?

A: Yes, we require a deposit to reserve your date with the balance due 14 days prior to your event. We will accept payment via mailed check, Venmo, Zelle, PayPal or credit card (fees apply for PayPal and credit card- inquire for details.)

Q: Will you attend our rehearsal dinner?

A: Attending rehearsal dinners is not included in our wedding ceremony fees. If you'd like us to attend your rehearsal, we will consider that a separate booking.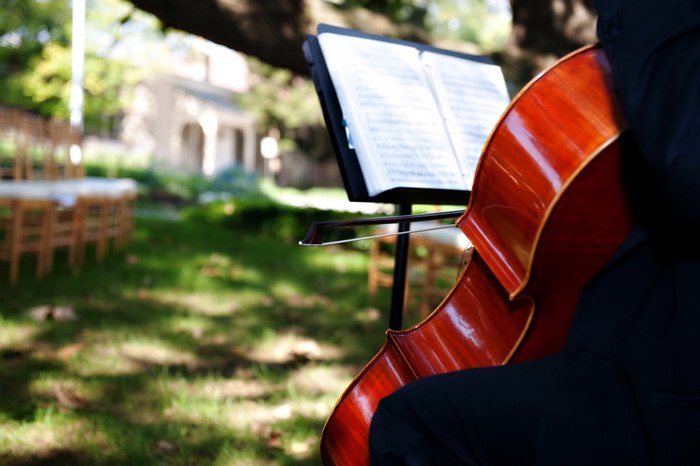 Q: What parts of the ceremony will we need to select music for?

A: There are five places that you may want music during your wedding ceremony:

1. Parents'/Grandparents' entrance (optional- can be a continuation of the prelude music that will be played as guests arrive-. No need to select the prelude music- We'll take care of that for you!)
2. Bridal party's entrance (bridesmaids, ring bearer, flower girl, etc.)
3. Bride's entrance
4. Song(s) during the ceremony itself (optional- candle lighting, communion, wine ceremony, etc.)
5. Recessional music for your exit

Q: Our wedding ceremony is going to take place outdoors. Will you play outside? If so, are there any requirements?

A: Outdoor weddings are beautiful and we would love to be a part of yours! If there happens to be a chance of rain in the forecast, we ask that you coordinate with your venue to provide a tent or other sufficient covering as our instruments can not get wet. Even a light drizzle can be harmful to certain instruments. Additionally, temperatures below 60 and/or direct sunlight can be damaging to wooden instruments, as well as affecting our ability to play "in tune". A shaded area on a 60+ degree sunny day sounds perfect for an outdoor wedding, doesn't it? We think so too!

Q: Do you need us to provide chairs?

A: Yes. We'll need one arm-less chair per musician set up in each location you'd like us to perform.

Q: How will you know how to time the music for the processionals?

A: We will want to know how many people will be entering to each processional song as well as the final words your officiant will speak before we begin the recessional music (we will coordinate this with your officiant when we arrive at the venue). A program is also helpful when music is desired during certain parts of the ceremony itself. With that information we will use our years of wedding experience to keep things running smoothly!