Azumi 2000 RBO Flute by Altus- SOLD
Azumi flutes are designed by Altus and sport a Sterling Silver Handcut Altus "Z" Headjoint. Model AZ2000 also has a Open Holes, a Silver Plated Body, B foot with Gizmo Key, and an Offset G Key.
"Designed for the advancing flutist, the Azumi body features the Altus-Bennett scale for more accurate intonation, wide-rib construction for more durability against normal wear and tear, sturdy key mechanism, and advanced features like the gizmo key. The Altus Z-cut headjoint features a hand-cut embouchure hole with a wider, rectangular shape to provide a quick, free response and large tone throughout all registers. The higher density of .958 Britannia silver provides a darker, more dramatic tone. "
This flute is stunning. Besides some light surface wear from normal use (slight scuffs/scratches), it is in excellent condition! Pads look great and all seal with a light touch. Freshly serviced, it's playing beautifully from top to bottom.
The action is quick and light. This one is sure to please! Comes with French slim-line case and canvas outer case Hole plugs available if needed at no additional cost.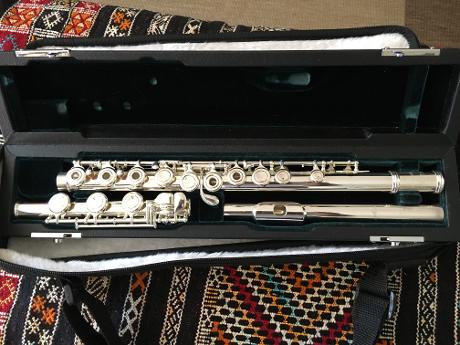 Email JDMinstrumentsales@gmail.com or call 917-400-1658 with questions or to set up an appointment in or around Lawrenceville, NJ.
Online Buyers: I accept payment via PayPal only and will ship this flute USPS Priority for an additional $35 to locations within the continental US. 7% sales tax will be added for items shipped to NJ locations. I will accept returns within 7 days of purchase for US sales. with instrument returned in the same condition it was sold in. Buyer pays shipping. Please contact me for international shipping rates. No returns will be accepted on international sales.