Wedding Music at The Society Room, Hartford
What a fun wedding to perform for! Heather came to us about 9 months before her wedding and asked if our musicians knew "Con Te Partiro", a beautiful piece of music sung by opera legend, Andrea Bocelli. My team and I looked at each other and said, "Wait... why is that not in our repertoire yet?!" Sometimes it takes our clients to remind us of all the wonderful music we can be performing! We were happy to learn this piece for Heather!
The Society Room in Hartford, CT is a fabulous place for a wedding. Its modern twist on the medieval, complete with winding staircase and marble columns, is a sight to be seen! We walked in to see the room set up and ready for Heather's ceremony.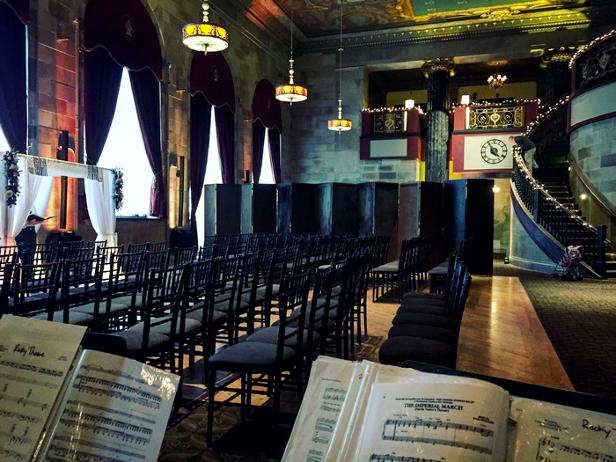 The gorgeous cake and flowers on a table in an adjoining room.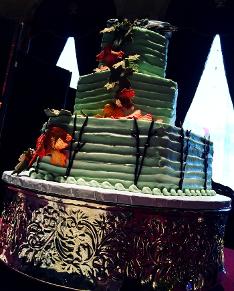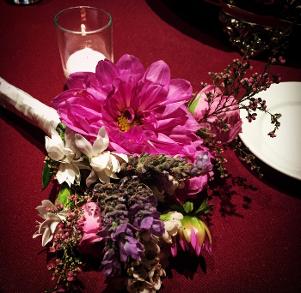 Heather chose to have our flute-violin-cello trio, Trillogie, play for her wedding. I don't typically post our entire setlist to the blog, but this is such a fun and diverse list of music that I wanted to share it with you all!
From jazz to classic rock to classical to opera to hymns to Jewish traditional music to tv and movie themes, Heather included it all! The list below is cut and pasted out of the email I sent to the violinist and cellist before the event, for a little glimpse into the inner workings of the wedding music biz!
Preludes to include:
Take Five - Dave Brubeck
Stairway to Heaven
Vivaldi Four Seasons (Spring and Winter)
The from Rocky
Flower Duet from Lakme
Groomsmen (4 entering)= Game of Thrones Theme
Groom's Father/Brothers (3), Ringbearer (
1
), Candle Lit, Groom to follow =
Amazing Grace
Bride's Grandmothers (2 of them walking with escorts) =

Cello Suite #

1

Prelude J.S. Bach
Flower Girls/Bridesmaid #
1
(3 walking together), Bridesmaid #2, Maid of Honor =
La Vie En Rose
(Edith Piaf)
Bride = Con Te Partiro
Unity Candle = Ave Maria (Schubert)
Breaking of the glass (recessional) = Hevanu Shalom Aleychem, followed by Viva La Vida
Want to hear how the Game of Thrones Theme sounds when played by flute, violin and cello? Listen here!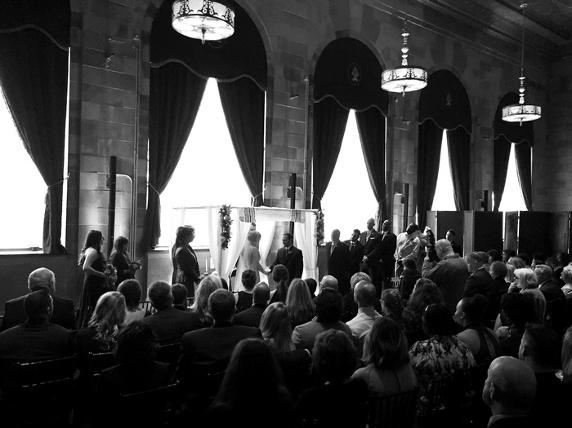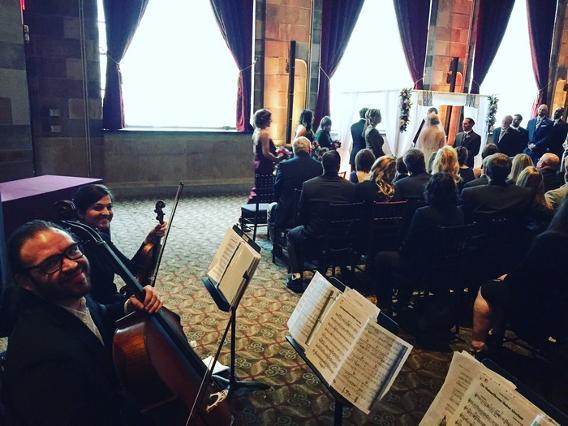 Thanks to The Society Room for being a great venue to work with- Jaclyn Duncan Music looks forward to visiting again!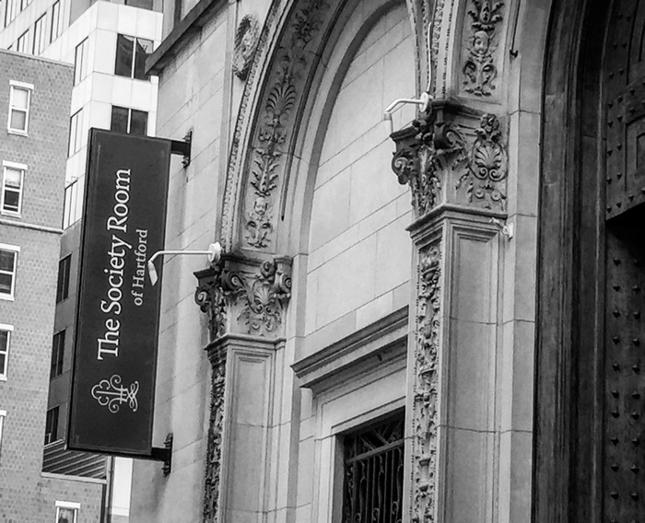 What?

Live music for a classy wedding ceremony at a gorgeous venue!
Where?
The Society Room, Hartford, Connecticut
Who was booked?
Trillogie, our Flute-Violin-Cello Trio
This page was written to read as a blog post- Enjoy the photos and anecdotes from our day in Hartford!